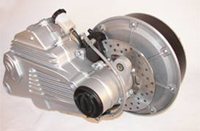 The FIR Group can provide the motor and built-in control for your special or mobile application.
The complete package is tailored to your specifications and delivered with sophisticated PM brushless solutions that allow for options such as regenerative braking, integrated battery charger, and flexible battery voltage supply.
Characteristics:
PM brushless motor
Built-in control board
Customised design
CAN Bus technology
Available Features:
Regenerative braking
Flexible power supply (either 24 – 36 – 48V)
Motors for Motor/Electronic/Gearbox
FIR designs and produces special motors for both electrical and mechanical purposes. FIR not only manufacturers electric motors but also partners in the development of more complex systems.